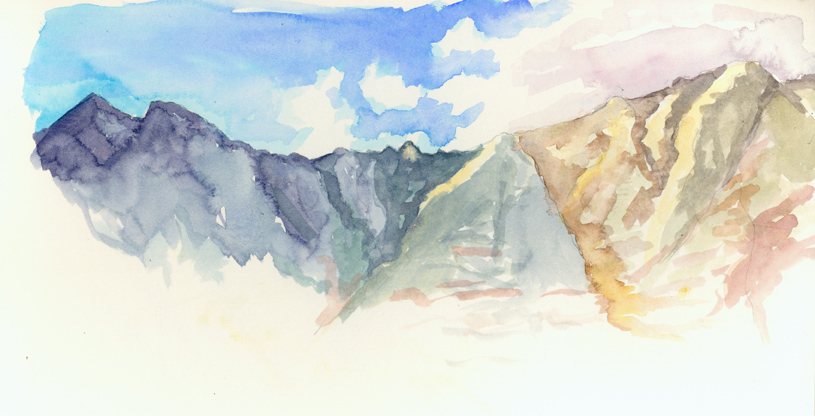 In celebration of my 47th birthday this fall I decided to finally make the attempt to summit Mount Katahdin, largest mountain in Maine (5,269′) and northern terminus of the Applalachian trail.  I missed this climb during my residency in the summer of 2010, although I did make it up to Chimney Pond for a day of painting.  A favorable weather forecast for late September gave me a great 3 day window to dust off my hiking boots and pack.  I decided to stay at the bunkhouse at Chimney Pond, a beautiful tarn surrounded by the Great Basin, which is made up of the peaks of Mount Katahdin and the Knife"s Edge.  My route was picked with the Ranger's advice; up Dudley trail to Pamola Peak, across the Knife Edge to Baxter Peak (summit) and down the Saddle trail.  Dudley trail is incredibly steep and rocky, lots of bouldering and scrambling that would have been tough after a full day of hiking, especially on the way down.  The weather for the day was epic; warm for fall and clear.  I took a minimum of art supplies since I needed most of the pack room and weight for water and clothing layers.   As I gained elevation towards Pamola I noticed several flocks of white winged crossbills fluttering around the cliffs.  They gave me some motivation to keep going on the steep climb.  Upon the summit of Pamola you get a spectacular and sobering view of the Knife's Edge and Baxter Peak.
The Knife's Edge trail travels the top of the mountain ridgeline from Pamola to Baxter.  It's quite a drop and at some spots narrows to 3 feet or so in width.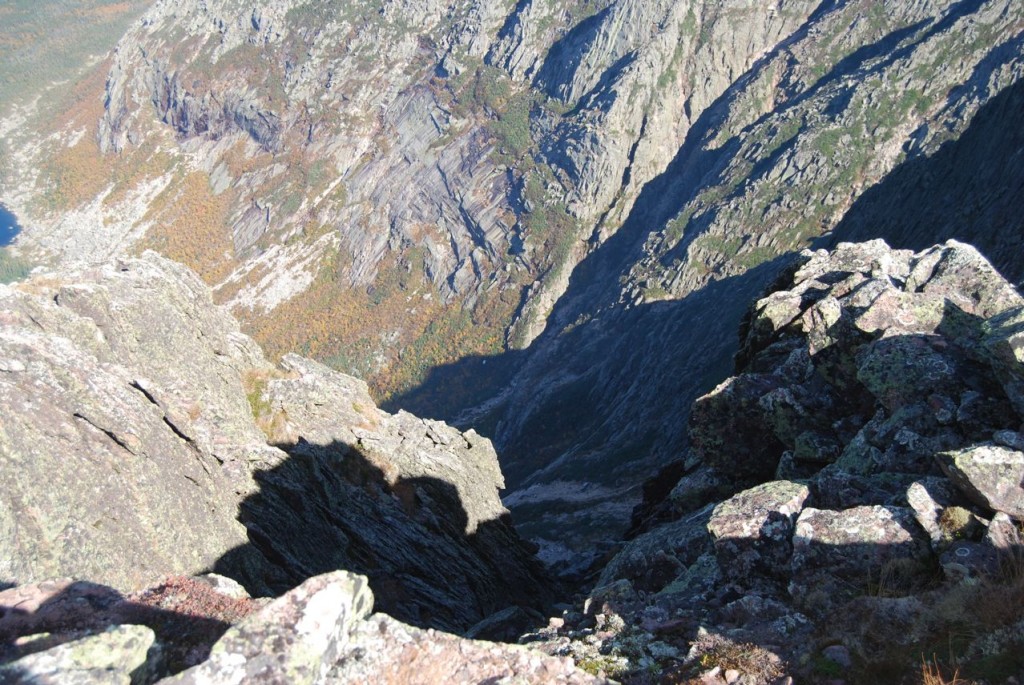 After a little over a mile of adrenalin rush don't look down hiking I managed to reach Baxter Peak and enjoy the company of several Appalachian Trail through hikers who had just completed their trek. I gave myself an hour or so up top to sketch, eat lunch and catch my breath before the hike  back down to Chimney Pond.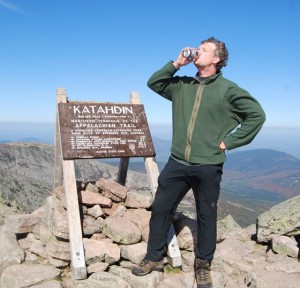 Seeds were planted for further adventures as I looked across from the summit to the Tableland, an alpine tundra that was home to caribou over 100 years ago.